Nonprofit Executive Search
Because high-impact nonprofits require high-impact leaders.
Audacious. Visionary. Bold. Results-Oriented. This is the type of leadership your nonprofit needs, and it's the type of professional we will help you find.
At Nonprofit HR, we understand that executive search is not just a recruitment activity, but an opportunity to define your organization and the change it will drive for years to come. Our executive search process is collaborative and focused.
With your organization's specific goals in mind, we work in partnership with you to find the best, most qualified executives to lead your mission. We serve both nonprofit executives and organizations who need them to pave the way to the future.
CONTACT US TO DISCUSS YOUR EXECUTIVE SEARCH NEEDS
---
---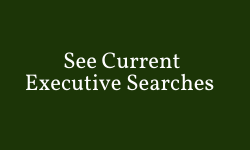 "Greenpeace USA has engaged Nonprofit HR to lead and drive multiple strategic human resources efforts that impact our ability to deliver on our mission. We are especially appreciative for the expertise and leadership they provided while shepherding us through the executive search process, helping us to identify and hire a dynamic business partner to serve as our Chief Operating Officer."
Let's get started.
Choose one of the options below to launch your search for a career or a leader.
I am a leader.
Help me find an executive role.
Browse open executive searches below, and when you're ready, submit your resumé.
I need a leader.
Help me find qualified candidates.
Contact us to discuss what you're looking for in your next leader and how we can help.
"Thank you for knocking this search out of the park. We saw several people and your candidate was the only one we wanted to move forward with."
Partner with our Executive Search team.
Partner with Nonprofit HR today to find the most effective C-suite leaders to execute your mission! Contact us now and someone from our team will be in touch shortly.