A resourceful place
Nonprofit HR's Blog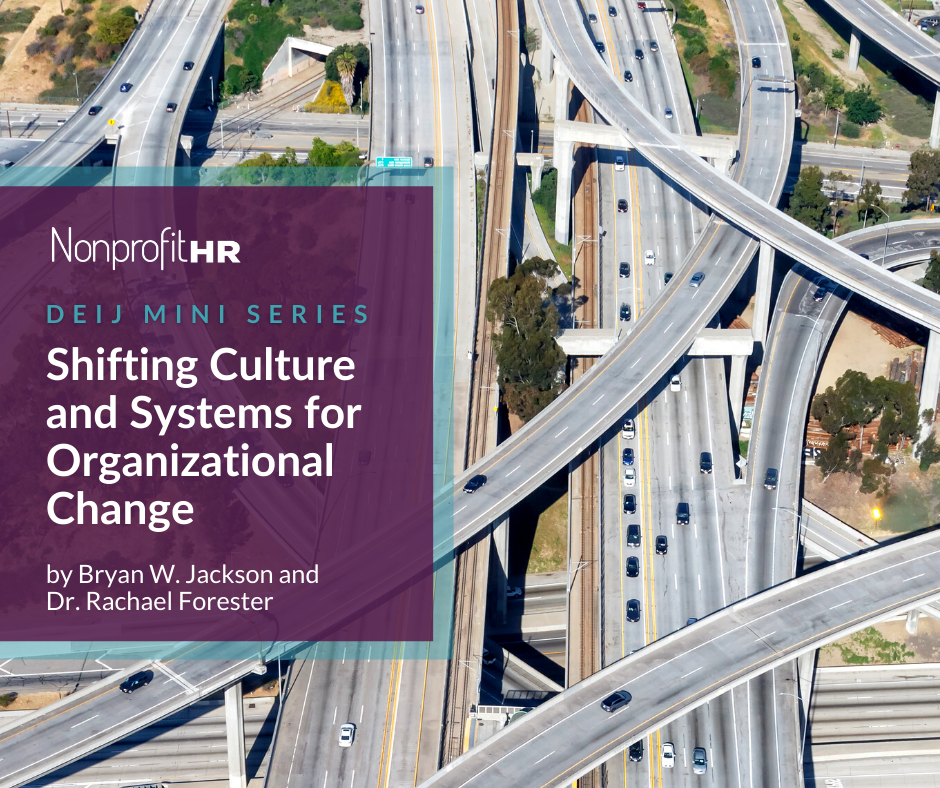 In examining where culture and systems intersect within your organization, it is important to start by ensuring a strong understanding of each and of their relationship to each other.
Organizational culture is the collection of values, expectations and practices that guide and inform the actions of all team members. These defined attributes work in collaboration with each other and provide a barometer of what your organization looks like, feels like and sounds like. When created with intentionality, a positive organizational culture produces performance results that further your mission and can increase your bottom line. The contrary can lead to a dysfunctional organizational culture with qualities that can hinder performance. Dysfunctional cultures can create a toxic environment where the quality of work and professional relationships are impacted, and the execution of the mission is jeopardized. 
Some systems within organizations center equity, and eliminate the institutional, systematic and societal barriers that prevent full participation of all groups. But some systems are so deeply embedded into core organizational cultures that, in those instances, it is critical to identify how all people are not benefiting from these systems and disrupt it.
It is essential to consider all systems levels (interconnectedness, synthesis, emergence, feedback loops, causality and systems mapping) as they are a part of the collective, especially for Shifting Culture and Systems. Culture and systems often have an interdependent relationship. Due to this, when systems shift, organizational culture shifts as well. HR systems are a primary place where culture and systems intersect. For example, if you have a building that does not have accommodations for those who utilize physical mobility devices, one who is dependent upon these types of accommodations will be impacted personally and professionally. By adding the necessary accommodations, you are providing access and, as a result, can better engage without barriers. This shift will improve accessibility and not single out those individuals with varying degrees of difference. 
Who Leads The Charge?
DEI initiatives are led in different ways in different organizations. Whether your organization has a DEI committee, a chief equity officer, or both, leading the charge, in order for your initiative to be successful, the senior leadership team must be supportive and champion the work. Well-equipped leaders often value power-sharing, receiving feedback and being open to change.  
Embarking on a Change Initiative
In beginning a new change initiative, you must first understand the current state in order to create a path and plan forward. This is often done by synthesizing what is working and what is not working within your organization. First, determine what needs to be prioritized. Once you have your "north star," you then must look at the data of what is being said about that particular system. 
Upon initiation, always consider the following questions.
Whose needs are and are not being met?   

Who stands to benefit?  

Who might be harmed?  
Ensuring Focus is on Equity and Inclusion
Further, to ensure equity and inclusion are at the core of your change initiative, first consider whether or not there is sufficient representation of people who are to be impacted by organizational changes in the decision-making process. For example, if senior leadership is considering a significant policy change for frontline staff, consider if they have consulted or attempted to gather feedback from frontline staff on how the policy will affect them on a day-to-day basis. If they have not done this (i.e., ensured representation of impacted persons in the process), there is a higher chance that there will be unintended consequences. On the other hand, intentional inclusion and representation of relevant stakeholder groups in some form improves the odds of avoiding inequities. This concept holds true for all types of organizational issues and is considered good practice when designing systems-level solutions.
In this way, communication is essential throughout this process. It builds trust, which can lead to an inclusive culture. Organizational leaders have an opportunity to include staff in the change process from start to finish. Engage with staff to understand their thoughts about the change initiative, what they believe is working in the current system and where bottlenecks, breakdowns, or incongruences are occurring. Learning these things can help leadership better understand how employees envision the organization achieving transformative culture change.
Outcomes of a Successful Shift for Culture and Systems
There can be many positive outcomes of organizational culture change initiatives. If done well, organizations can experience improvements in employee morale, retention, productivity and potentially other relevant employee performance areas. Additionally, over time, organizations with strong cultures and systems can become magnets to new talent and better equipped to both attract and retain that talent. Think about the organizations that everyone talks about working for and note the reasons they would want to work there. People will often describe organizations with people-centered benefits such as an open leave policy, free snacks, flexible work schedules, a well-invested in wellness program etc., as well as supportive systems for accomplishing work such as transparent advancement processes and fair compensation.  
Also, be considerate of the consequences of change in different areas of the organization, including who might be impacted by the change and how. For example, a small change, such as including salary ranges with job postings is an effort that improves pay transparency for potential candidates who might be applying. But if consideration is not given to the larger system, an organization might overlook related needs such as conducting an overdue internal compensation assessment for their staff. Existing staff who make less than a posted salary range for a similar role may experience declines in morale, and ultimately decide to pursue employment elsewhere. This may also cause new questions and concerns about pay equity that would not have existed otherwise. Even small changes can have large, unintended implications.   
What's at Stake?
Today's career-driven professional wants a work environment where they feel included and have a deep sense of belonging. When employees are valued, see themselves within the organization, and are supported by policies and practice, organizations are better equipped to drive their missions forward in a people-centered way. When organizations don't factor culture and systems into organizational change, they risk creating environments that are not supportive of the valuable people who work there. Additionally, without considering systems explicitly with organizational changes, you risk not having the desired impact and outcomes if they fail to address the root causes of concerns. Thus, fostering an inclusive organization means being intentional about ensuring your employees are supported by systems and processes.
Access the accompanying webinar recording here.
---
Contributing Authors
Bryan W. Jackson provides subject matter expert advice, insight and strategic direction to clients. He oversees complex client engagements, manages projects to completion and designs and facilitates DEI training solutions and assessment services to partners and stakeholders. Read full bio.
Dr. Rachael Forester provides subject matter expert advice, insight and strategic direction to clients. She oversees complex client engagements, manages projects to completion and designs and facilitates DEI training solutions and assessment services to partners and stakeholders. Read full bio.
Latest posts
Here are the most recent posts from our expert editors!